266 gigawatts ! India is going big, enormous, on renewables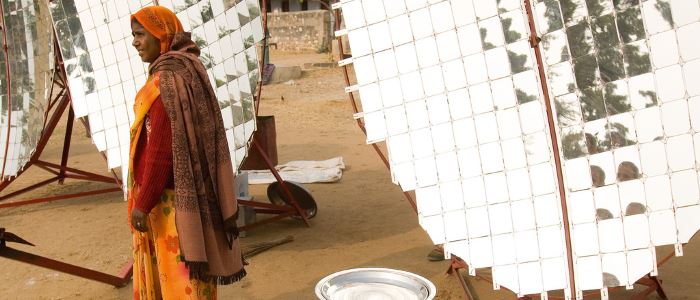 While India is plaggued by horrendous air pollution just like neighbouring China, it might not be the case in ten or twenty years from now. We have seen the world's largest democracy will provide clean electricity to 400 million people thanks to renewables.
But now the country as even bigger projects. As Eco Business states :
Close to 300 global and domestic companies have committed to generate 266,000 mega watts (or 266 giga watts) of solar, wind, mini-hydel and bio-mass based power in India over the next 5-10 years.

At a likely average cost of `7-8 crore per mega watt, the 266-GW commitment would translate into an investment of close to `18-21 lakh crore or $310-350 billion.

(…) In line with Modi's Make in India plan, the government has also got assurances for setting up close to 50,000 mw of manufacturing and EPC facilities for solar and wind power.

(…) "What we inherited is a mere 6 per cent share of renewable energy in the India energy basket…and we are looking to expand (it) to over 15 per cent in the next 10 or 12 years," he said.

India's total renewable energy capacity is around 34,000 mw at present, and Modi is targeting a five-fold capacity increase, he added.
This is the world's biggest project of its kind, at least to my knowledge. This will make create thousands of local jobs, clean the air, make local companies gain competitive advantage and knowledge… Imagine if other populous nations around the world did the same…
An example of this massive campaign on cleantech is provided by Climate Progress :
India is about to start construction on what will be the world's largest solar plant. As part of a redoubled effort to ramp up renewable energy capacity to help meet the developing country's fast-growing energy needs, the 750-megawatt solar plant in Madhya Pradesh will be inaugurated on August 15, 2016 — India's Independence Day.

The plant will be significantly larger than the world-leading solar farms in California, including the recently-commissioned Desert Sunlight Solar Farm.

India is planning to install at least 100 gigawatts of solar power by 2022 — a goal that solar power giant China only plans on beating by two years.

Both countries are confronting energy crises as coal-fired power plants spread debilitating air pollution throughout fast-growing urban centers. The situation is in many ways more acute in India. More than 300 million Indians do not have access to electricity, and by 2017, it is predicted India will outpace China in economic growth.
Meanwhile, the country will double its taxes on coal to slow its growth. Bloomberg reports (via Grist) :
Coal fires about 60 percent of India's electricity generation capacity and is among the cheapest sources of power in the country. The higher tax will lead to an increase of as much as 0.06 rupees in coal costs for every kilowatt hour of electricity.

(…) "As the Paris convention approaches, these steps will show the government is serious about climate change,"
 Image credits : Flickr, solar cookers in Rajasthan, India.